INTRODUCING OZO @CANNES, PARIS 2016
1/1
1/1
1/1
1/1
SOCIAL MEDIA CAMPAIGN (STATIC & ANIMATION)
"OZO technology" feed @Nokiatech
#DidYouKnow you can experience a show from anywhere in the room with surround sound audio. That's the power of #VR.
With #VR captured by #OZO, audiences can get the view without getting wet.
Why is #OZO good for #VR creators? @holotropevr CTO Boa Simon says it's all about the story.
"Everyday Nokia" feed @Nokia
Want to see who else is at the party? With #VR you could take a look around.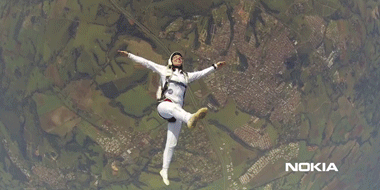 Some things are too extraordinary to experience only once. Relive it with #VR.
With #VR, there's nothing out of frame — so you won't miss a single adorable moment.
From flying over volcanoes to the top of #MtEverest, take #OZO wherever your imagination goes.
"Health tips" feed @Nokiahealth (using OZO momentum to promote Withings, Nokia's new healthcare product line)
How healthy is your heart? Find out with @Withings #BloodPressure Monitor. #DefineYourHealth